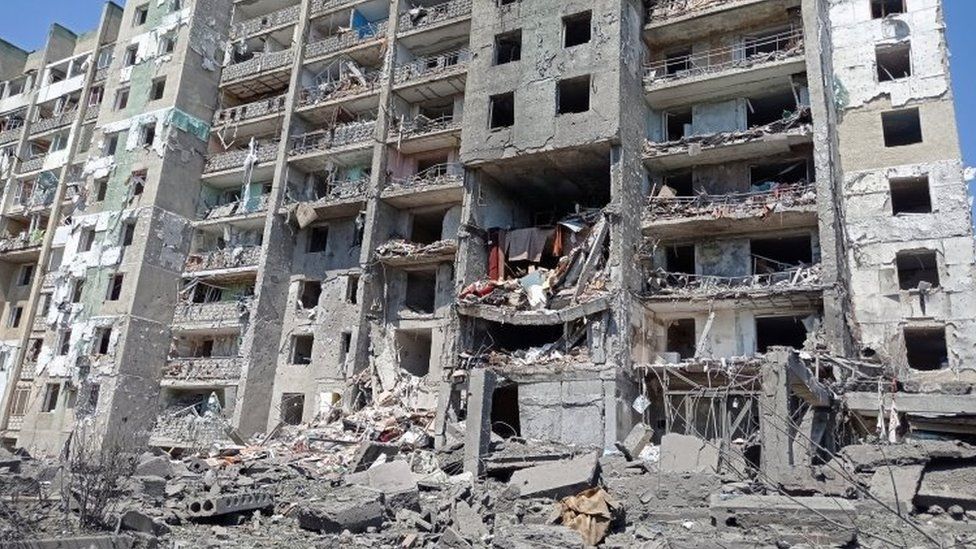 Friday brought another deadly barrage of Russian missile strikes on Ukraine, with at least 21 people – including one child – reported killed in the southern Odesa region.
Ukraine's emergency service said a nine-storey building and a holiday facility were hit in the village of Serhiyivka.
Andriy Yermak, Ukrainian President Volodymyr Zelensky's chief of staff, accused Russia of being a "terrorist country".
"In response to defeats on the battlefields, they [Russians] are waging a war on civilians," he said.
Fierce fighting also continued around the eastern city of Lysychansk – the last remaining city in the Luhansk region not under Russian control.
How many people have died in the war
Civilian deaths account for more than one out of every three of those recorded in Ukraine since 24 February, according to BBC News analysis of data from the Armed Conflict Location and Event Data Project (Acled) – a US-based non-profit group that records political violence.
Experts say the total number of recorded deaths is likely to be a severe underestimate.
Ukraine and Russia claim the number reaches into the tens of thousands – but their claims differ wildly and cannot be independently verified.
What weapons are being supplied to Ukraine?
President Volodomyr Zelensky told this week's meeting of Nato: "We need to break the Russian artillery advantage. We need much more modern systems."
If Ukraine did not receive the weapons it needed to defeat Russia, he said, Nato leaders would face a future war with Moscow themselves.
Huge amounts of military equipment have been given to Ukraine by more than 30 countries, but heavy weaponry has been slow to arrive and in some areas Ukrainian troops have been heavily out-gunned.
Elite Russian regiment fights for public support
One of Russia's elite fighting forces, the 331st Guards Parachute regiment, is back in Ukraine after suffering heavy losses at the start of the war.
State media tells a story of the unit's great heroism, but back in the regiment's hometown support for the fighters looks less certain.
Glimpsed on the official Rossiya channel earlier in June, an armoured vehicle races up to a field hospital carrying several badly-injured men in the Donbas battleground.
"The [Ukrainian] tank was firing at us," one of the Russian paratroopers explains, as his wounds are dressed, "…first near us, then straight at us."
These flashes of the bloody reality of this war are rare, but acknowledgements of the price being paid by the army are becoming less so.
Ukraine demands seizure of Russian-flagged grain ship
There is mounting evidence that Russian forces in occupied areas of Ukraine are systematically stealing grain and other produce from local farmers, contributing to a grain shortage and a global food crisis.
Ukraine claims that some of the stolen grain has been transported in a ship from a Russian-occupied part of the country, and has called for the ship to be seized.
It is not clear where its cargo came from or how it was obtained, but Russia has been accused of stealing grain from areas of Ukraine it controls.
Russia to take control of huge oil and gas project
Moscow has moved to take over a major oil and gas project in which Shell has a 27.5% stake.
Russian President Vladimir Putin this week signed a decree to take charge of the Sakhalin-2 project in Russia's Far East region.
The move could force British multinational giant Shell and Japan's Mitsui and Mitsubishi to abandon their investments as the economic fallout of the Ukraine war spreads.
Ukraine declares victory in the war for borsch
Unesco said the war in Ukraine had "threatened" the practice of cooking borsch – a hearty soup usually made with beetroot and potatoes – in the country.
"Victory in the war for borsch is ours!" Ukraine's Culture Minister Oleksandr Tkachenko said.
Russia's foreign ministry ridiculed the move, stating that the dish had no need of safeguarding.
War in Ukraine: More coverage