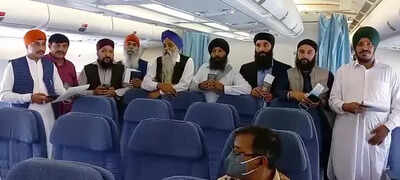 The 11 Afghan Sikhs who came to Delhi from Kabul with the ashes of Sawinder Singh, who was killed in a gurudwara attack in Kabul, on Thursday. (File photo: ANI)
CHANDIGARH: Rajya Sabha MP Vikramjit Singh Sahney, who is also the international president of World Punjabi Organisation, has requested the ministry of external affairs (MEA) to issue the remaining 58 visas to Afghan Sikhs promptly.
Sahney reaffirmed his commitment to rehabilitate the remaining Afghan Sikh refugees under the programme, "My Family My Responsibility", running for the last two years.
Eleven Afghan Sikhs, out of the remaining 164 stranded in Kabul, have landed in Delhi with the ashes of Sawinder Singh who died in the recent bomb attack, said Sahney, adding that he is in touch with all of them in Kabul and is coordinating with the MEA for their evacuation. The Indian Embassy has restarted its operations in Kabul after discussions with Talibans, he also said.
Meanwhile, Paramjit Singh Bedi, president of Global Sikh Forum, US, have requested SGPC to honour their commitment by releasing Rs 33 lakh for the families of 24 Sikhs who lost their lives in Kabul Gurdwara bomb blast in 2020 and 13 who died in 2018 in an attack on a gurdwara in Jalalabad.
FOLLOW US ON SOCIAL MEDIA
FacebookTwitterInstagramKOO APPYOUTUBE