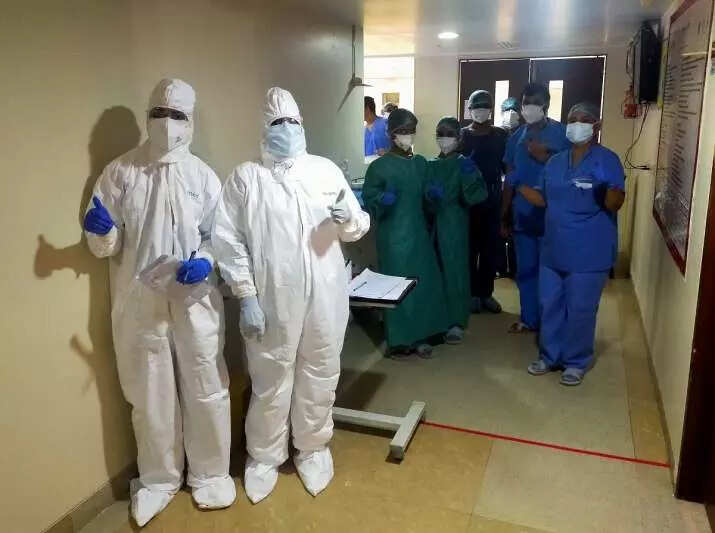 Mumbai: Comorbidities proved to be crucial in patients who died of Covid-19 at
SevenHills Hospital
in
Andheri
, which has treated the highest number of critical cases in the city.
Up to 84% of the deceased had more than two comorbidities, as per an analysis. A study of fatalities recorded between April 2020 and March 2021 highlighted that deaths were more frequent in older men (68%) than women and youngsters. Higher mortality was also seen in those reporting late to hospitals due to delayed referrals, resulting in a severe state with higher oxygen requirements.
SevenHills Hospital, which started as a quarantine centre in March 2020, was converted into a full-fledged isolation and treatment facility for Covid-19 within the next few weeks. As the hospital prepared over 1,800 beds, it was designated to treat the most critical patients. The hospital has recently published an observational study of 1,304 deaths seen between April 2020 and March 2021 in the Journal of Family Medicine and Primary Care. During this period, the hospital handled 21,348 patients. It has managed 47,000 patients throughout the three waves and shouldered almost one-fifth of the city's hospitalisation burden.
Poorer outcomes were related to hypertension, diabetes, and cardiovascular diseases, said Dr Smita Chavan, principal author of the paper and deputy dean of the hospital. Of the deaths, 21% were in those without any underlying conditions, while the remaining had one, two, or more than two comorbid conditions. Dr Chavan said that criticality in patients was often seen due to late seeking of care or referral from smaller centres that would waste 4-5 days trying to treat at their level.
The study underlined that upto 93.5% of deaths occurred in patients who came to the hospital with a very high oxygen requirement. Almost 65% were on a non-invasive ventilator at the time of admission. Dr Balkrishna Adsul, incharge dean of the hospital, said many patients treated at smaller centres were not started on drugs like remdesivir, tocilizumab or anticoagulants in the right window. "In those with comorbidities, Covid had led to an increase in blood sugar levels, hypertension and blood coagulation parameters. All these, combined with a delay in taking a call on starting them on drugs like remdesivir and tocilizumab, led to bad outcomes," he said.