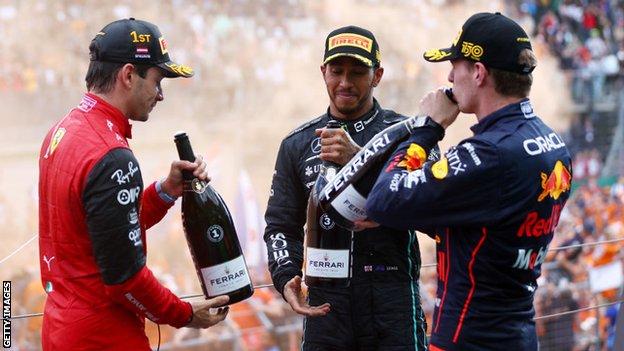 Formula 1 will investigate claims that some spectators at the Austrian Grand Prix suffered discriminatory abuse.
Lewis Hamilton was one of those to call for action, saying he was "disgusted and disappointed" by the reports.
"Something must be done to ensure races are safe spaces for all," he added.
Formula 1's statement read: "We take these matters very seriously, have raised them with the promoter and event security, and will be speaking to those who reported them."
It added that the reported behaviour was "unacceptable and will not be tolerated".
Red Bull team principal Christian Horner said: "We are shocked to hear that there have been some incidents of abusive behaviour in the grandstands and the fan parks. This is completely unacceptable and we hope that security and the authorities deal with this swiftly as there is no place for it in racing or society as a whole.
"We value inclusion and want a safe space for fans to enjoy our sport."
Ferrari added in a Twitter post: "There is no room for abuse either verbal or physical against any group of people in sport. Therefore we stand together with F1 in stating that this behaviour is completely unacceptable."
'Fans should be banned for life' – drivers' reaction
Aston Martin driver Sebastian Vettel said after the race Formula 1 should take a "zero tolerance" stance on discriminatory abuse and hand out lifetime bans to any fans who are found guilty.
"I think it is good that this stuff comes out, that's the start, but it is horrible," said the four-time world champion, who finished 17th at the Red Bull Ring.
"Whoever these people are, they should be ashamed of themselves and they should be banned from racing events for their lives.
"I think there should be zero tolerance. If people have a good time and drink too much that's OK, but it doesn't justify or excuse wrong behaviour.
"We race as one, so the fans are a part of that."
The top three drivers in Austria were also asked to give their thoughts on what the sport should do to tackle any appropriate behaviour fans experienced during a race weekend.
"As Formula 1, if we manage to find these people, we need to take hard actions, they shouldn't be allowed to be anywhere close to our sport," said winner Charles Leclerc.
Max Verstappen, who finished second in front a huge crowd at the home of Red Bull, said a possible issue may lie in the consumption of alcohol over the course of a three-day event.
The Dutchman added: "I think one thing can be improved, maybe with security around places, you know, to keep people more in check.
"And also don't forget, it's not an excuse, but of course, they watch the races and then they go back and party and have fun and drink alcohol. And sometimes when you drink alcohol, you can do stupid things. I don't say this as an excuse but also these things can be regulated."
Hamilton added that not enough had been done to continue the message of inclusion within Formula 1.
"We Race as One was all good and well, but it was just words," said the seven-time world champion. "It didn't actually do anything; there was no funding towards anything; there was no programme to actually create change and spark that conversation.
"So, definitely need to utilise our platforms… we really have to step up and actually really start actioning some of the things we're saying."
Hamilton criticises fans' crash reaction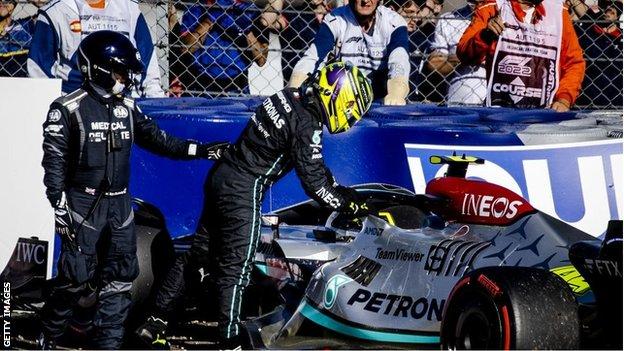 Earlier in the weekend, Hamilton criticised spectators at the Red Bull Ring for cheering when he crashed in qualifying.
Hamilton went off at Turn Seven, close to grandstands packed with Dutch fans of his 2021 title rival Max Verstappen.
"I was going through a bunch of stuff in the crash, but to hear it afterwards you know… I don't agree with any of that, no matter what," he said.
"A driver could have been in hospital, and you are going to cheer that?"
The incident left Hamilton 10th in qualifying, although he was promoted to ninth on the grid for Saturday's sprint event after a penalty for Red Bull's Sergio Perez, qualified eighth and took third place in Sunday's race.
Speaking after the sprint, Hamilton added: "It's just mind-blowing that people would do that, knowing how dangerous our sport is. I'm grateful that I wasn't in hospital and I wasn't heavily injured.
"You should never cheer someone's downfall or someone's injury."